Local Leader in Implementing Scientifically Validated Teaching Has Served Nearly 3000 Children Diagnosed with Autism Spectrum Disorder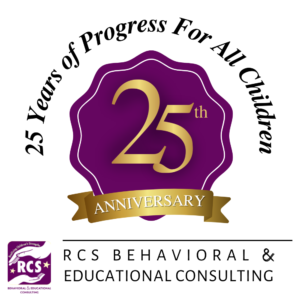 Woburn, MA (June 30, 2022) – RCS today announced its 25th anniversary and upcoming plans
to continue to expand its services to children and families across Massachusetts. Founded in
1997 the organization has served nearly 3000 children from over 100 cities and towns by
providing services to children in need of behavioral and educational developmental support. 1
in 44 children are diagnosed with Autism Spectrum Disorder each year. Nearly two-thirds of
children with autism between the ages of 6 and 15 have been bullied and over 80% of adults
with autism are unemployed. Autism affects countless children and families in the
Commonwealth.


RCS focuses on supporting children in gaining independence and learning lifelong skills. "I
cannot believe RCS has operated for 25 years! RCS helped me become more independent and
taught me to improve my communication skills. I now work at Duck Tours and at Lasell Village, I
travel, and I am part of a community singing group," said 25-year-old Stefano Micali, a former
RCS student who was three years old when he first began receiving services from RCS.


Looking to the future of the company RCS will deepen its commitment to local communities
through continuing its four main services which include home services, early intervention, an
Early Childhood Center, and Integrated Preschool program. Through its 25-year history RCS has
served the community as a mid-level employer having provided clinical training for over 500
employees and has implemented a continuing education graduate school program and tuition
reimbursement program for employees through partnerships with Simmons College and other
institutions of higher education.


RCS Behavioral and Educational Consulting began a one-of-a-kind program when it began the
Rising Stars Integrated Preschool Program in 2014 to serve children ages 3-6 within its sister
company, Mini-Miracles Early Education & Childcare Center. All students who attend the
integrated preschool program are accompanied by a 1:1 Behavior Therapist and receive
supervision and oversight from a Board Certified Behavior Analyst (BCBA) as well as an Inclusion
Facilitator.


"ASD affects all ethnic and socioeconomic groups. I am incredibly proud of our staff of
dedicated therapists and educators who have supported our children and families for the past
25 years," said Denise Rizzo-Ranieri, President and Co-Founder of RCS Behavioral and
Educational Consulting. "Consistency and quality of services is incredibly important for children
with autism and we are grateful to have served the community for over two decades."


About RCS
RCS Behavioral & Educational Consulting provides a variety of direct, consultative, and training
services to schools, agencies, families, and individuals with developmental disabilities, infant to
adult. Applied Behavior Analysis is the major treatment modality employed by RCS, with an
emphasis on the Verbal Behavior approach to teach communication. Our Clinical Team of Board
Certified Behavior Analysts (BCBAs) and other experts in the field, support and guide parents
and educators through our teaching procedures.


Realizing Children's Strengths (RCS) was founded in 1997 to provide the highest quality of
individualized behavioral and educational services for children with Autism Spectrum Disorders
and other developmental disabilities. We believe that every child has unique skills and we are
dedicated to helping each child develop these skills and reach their full potential. RCS is
committed to providing the highest quality of individualized, educational services consisting of
scientifically validated teaching procedures and highly trained staff.