September 12, 2017., Natick, MA –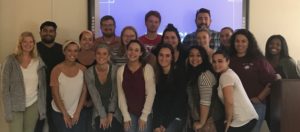 Realizing Children's Strengths (RCS), which provides behavioral and educational research and education for children with Autism Spectrum Disorders and other development disabilities, announced a 2017/2018 collaboration with Simmons College that will enable RCS employees to further their education in Behavior Analysis on the RCS Learning Center campus.
Through this year's agreement, the 5th Cohort to date, twenty-one staff members at RCS who wish to work toward an M.S. in Behavior Analysis have enrolled in the Simmons College Graduate Program, with all the classes being held at the RCS Learning Center in Natick. RCS employees receive a significant reduction in tuition and enjoy all the privileges of an on-campus Simmons student. After completing the 42 credits over five semesters, the RCS M.S. candidates will be eligible to sit for the BCBA exam.
The Simmons College Behavior Analysis program prepares its students for leadership roles in the implementation, evaluation and administration of applied behavioral analytic principles and methods.  The innovative curriculum emphasizes contemporary research and the fusion of applied behavior analysis with other scientific fields. Simmons and RCS have enjoyed a long relationship with Simmons staff also working full-time at RCS and Simmons BCBA students getting hands-on experience working with RCS students.
"Simmons is proud to work with the talented and dedicated staff at RCS and to provide them with the tools to give the children in their care the support they need," said Professor Russell Maguire, who helped develop the program and serves as chair of the Behavior Analysis Department at Simmons. Adding, "RCS is committed to finding the most effective way to deliver high-quality programs and services to children with Autism Spectrum Disorders, and this valuable collaboration enables RCS employees to study the latest advances in behavior analysis and immediately apply what they have learned in a real-life setting."
Simmons College (www.simmons.edu) is a nationally recognized private university located in the heart of Boston, and is the preeminent authority on women's leadership. Founded in 1899, Simmons is the only undergraduate women's college in Boston, and maintains a history of visionary thinking and a focus on social responsibility. The college offers world-class coeducational graduate programs in nursing and health sciences, including physical therapy and nutrition; liberal arts; education; behavior analysis; library and information science; management; and social work.
"We strive to engage our employees with a supportive work environment which facilitates hands-on learning of behavior analytic principles and concepts," said Dr. Christina King, RCS Learning Center's Executive Managing Director and Chief of Research and Application for Realizing Children's Strengths. Adding, "The RCS, Simmons Partnership not only allows our staff to grow in their careers, but most importantly it encourages them to deliver even more intensive behavioral and educational services in order to further our progress of each of the students we service.  This successful partnership has produced over 75 Behavior Analysts with many of the graduates remaining employed at RCS within an advanced role.  It is a great source of pride for RCS to maintain this partnership and add to the advancement of the science and application of Applied Behavior Analysis."
About Realizing Children's Strengths (RCS) Learning Center
Realizing Children's Strengths (RCS) Learning Center is a not-for-profit organization whose mission is to provide the highest quality of individualized behavioral and educational research and services for children with Autism Spectrum Disorders and other developmental disabilities. Founders Denise Rizzo-Ranieri and Louis Ranieri combined their many years of successful behavioral and educational consulting with a leading team of experts and over a decade-ago developed the Natick school that exceeds the standards for teaching students with autism effectively through intensive, quality 1:1interactive education. The RCS team believes every child has unique skills and they are dedicated to helping each child develop these skills and reach their full potential with an intensive staffing and supervision structure which enables the highest quality of comprehensive and individualized programming and services tailored to meet every student's needs. Realizing Children's Strengths, which currently serves 45 RCS Learning Center students and 26 school districts in MA, also provides unique training environments with a continued focus on developing vocational skills training through real-world job training on site and at partner locations. Highly respected industry leaders with award-winning services, RCS Learning Center is based in Natick, MA and is a 501c3b non-profit. More information is available at www.rcslearning.org and http://rcsconsultingne.com/